World news story
Universal Periodic Review 29: Botswana
This UK statement was delivered during the 29th session of the Universal Period Review during the discussion of Botswana's Human Rights Record on 17 January 2018.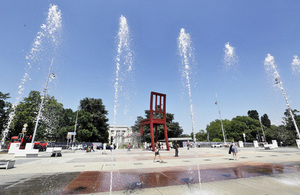 The United Kingdom welcomes progress since Botswana's last UPR in 2013, including passing the ICC Rome Statute and movement towards a National Human Rights Institution.
The registration of "The Lesbians, Gays & Bisexuals of Botswana" is positive. We hope a public education programme will follow that creates an environment for future decriminalisation of same sex sexual activities.
Finally, we welcome ratification of the Southern African Development Community Protocol on Gender and Development - though we remain concerned by high levels of sexual violence against women and girls.
We also acknowledge significant efforts to combat trafficking and encourage further protection for the most vulnerable, support for victims and stringent penalties for perpetrators.
We recommend:
Amending the 2009 Children's Act to include the definition of child trafficking and to criminalise the worst forms of child labour.

Adopting an open, merit-based selection process when selecting national candidates for UN Treaty Body elections.

Taking urgent steps to address gender based violence, including the creation of an Act that makes marital rape illegal in Botswana.
Published 17 January 2018