World news story
Universal Periodic Review 28: Zambia
This UK statement was delivered during the 28th session of the Universal Period Review during the discussion of Zambia's Human Rights Record on 13 November 2017.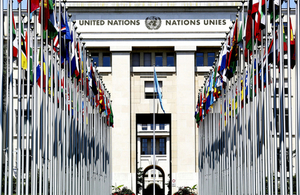 The UK welcomes the progress the Government of Zambia has made to improve its human rights record and looks forward to further progress following challenges around the election period in 2016. We look to Zambia to adopt an open, merit-based selection process when selecting national candidates for UN Treaty Body elections, and to review legislation to establish a minimum age for marriage.
In addition, we have three specific recommendations:
Make the necessary legislative changes, including restricting the scope of the Public Order Act, to ensure the freedoms of association and expression are protected; and to ensure the police enforce these and other laws in a proportionate manner.

Legislate to remove the death penalty from its statute and commute to custodial sentences those death sentences that have already been handed down.

Take all necessary measures to accelerate the adoption and implementation of the Marriage Bill (2015) to help end child marriage in Zambia.
Published 13 November 2017