World news story
Universal Periodic Review 28: Sri Lanka
This UK statement was delivered during the 28th session of the Universal Period Review during the discussion of Sri Lanka's Human Rights Record on 15 November 2017.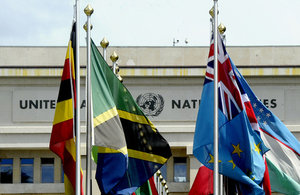 The UK welcomes progress on human rights and reconciliation in Sri Lanka, including UN Human Rights Council engagement and the establishment of an Office of Missing Persons.
We encourage Sri Lanka to complete its work to enact human-rights compliant counter-terrorism legislation, and to continue with police reform and ongoing work on reconciliation. We call on Sri Lanka to adopt a time bound action plan to implement its Human Rights Council resolution commitments.
We have three recommendations:
Upon ratification, implement the Optional Protocol to the Convention against Torture and Other Cruel, Inhuman or Degrading Treatment or Punishment.

Design and implement strategies to tackle sexual and gender-based violence, including addressing related stigma towards victims and survivors, as per the National Human Rights Action Plan, the National Plan of Action for addressing Sexual and Gender Based Violence and the Declaration on Preventing Sexual Violence in Conflict.

Consider introducing legislation requiring businesses to report publicly on efforts to ensure transparency in supply chains, as part of Sri Lanka's national action plan to combat human trafficking
We welcome Sri Lanka's endorsement of our Prime Minister's Call to Action to end Forced Labour, Modern Slavery and Human Trafficking and wish them well for their review.
Published 15 November 2017