World news story
Universal Periodic Review 28: Peru
This UK statement was delivered during the 28th session of the Universal Period Review during the discussion of Peru's Human Rights Record on 8 November 2017.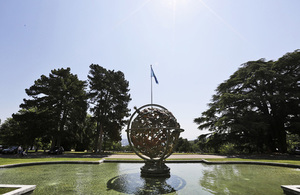 The UK welcomes the Peruvian Government's determination to address human rights concerns and we welcome Peru's progress on human rights since its last review.
We commend Peru's efforts to develop a national human rights strategy, which will include a reference to LGBTQI+ rights for the first time.
We remain concerned by forced labour and sex trafficking in the highlands and rainforest regions of Peru. Indigenous Peruvians are particularly vulnerable to trafficking which occurs near illegal mining camps. We encourage Peru to improve coordination between central and regional governments in order to implement anti-trafficking measures.
We also remain concerned by violence and sexual assaults against women and girls across the country. We urge Peru to ensure that those affected are afforded adequate access to justice and that perpetrators are prosecuted.
We have three recommendations:
Strengthen technical cooperation with UN organisations to help address domestic and sexual violence issues, in particular violence against women and girls, and to ensure perpetrators are brought to justice.
Develop and implement a national strategy to combat human trafficking, particularly of women and girls, with enhanced support services for victims.
Adopt an open, merit-based selection process when selecting national candidates for UN Treaty Body elections.
Published 8 November 2017