World news story
Universal Periodic Review 28: Ghana
This UK statement was delivered during the 28th session of the Universal Period Review during the discussion of Ghana's Human Rights Record on 7 November 2017.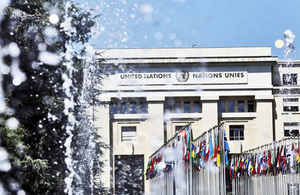 The UK recognises and welcomes the progress made by Ghana on their human rights agenda.
We have three recommendations:
To make operational the Ending Child Marriage Unit within the Ministry of Gender, Children and Social Protection.

In line with the 'Call to Action' that Ghana endorsed on 17 September in New York, to adopt a more holistic approach to combating modern slavery, through systematic case referral and improved co-ordination between law enforcement agencies.

To adopt an open, merit-based selection process when selecting national candidates for UN Treaty Body elections.
Published 7 November 2017