World news story
Universal Periodic Review 28: Gabon
This UK statement was delivered during the 28th session of the Universal Period Review during the discussion of Gabon on 7 November 2017.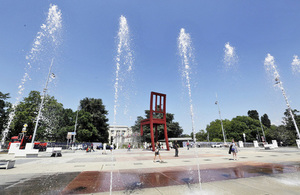 We welcome progress made by the Government of Gabon since the last review in respect of women's rights and the protection of children, especially in relation to human trafficking. However, we are concerned that the Government has reversed some of the positive steps previously taken to enable greater space for political debate, by placing restrictive measures on, and using excessive force towards, those wishing to exercise their right to freedom of expression and peaceful assembly. The UK recognises that legislation in Gabon endorses these principles, but this is not sufficiently reflected in the actions of the State.
The UK thanks the Government of Gabon and those involved from civil society for their efforts in undertaking this review.
We have three recommendations:
Expand the remit of the inter-ministerial child trafficking committee to include adults, ensuring adequate human and financial resource to support national efforts.

Take measures to guarantee a safe and transparent environment within which civil society can freely operate without fear of repercussions, including by lifting restrictions on freedoms of expression and assembly.

Adopt an open, merit-based selection process when selecting national candidates for UN Treaty Body elections.
Published 7 November 2017