World news story
Universal Periodic Review 28: Benin
This UK statement was delivered during the 28th session of the Universal Period Review during the discussion of Benin's Human Rights Record on 10 November 2017.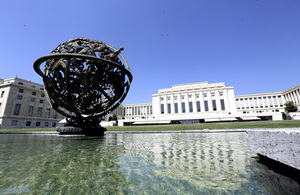 The United Kingdom welcomes Benin's progress on human rights, including the decision of the Constitutional Court to abolish the death penalty. We urge the Government to implement outstanding accepted recommendations, including those pertaining to prison conditions.
We are concerned at the continued practice of ritual infanticide and urge the Government to work closely with experts and non-governmental organisations to eradicate it. Awareness campaigns should be properly targeted, families of those affected given support, and the perpetrators punished. The Special Rapporteur on the sale of children, child prostitution and child pornography previously urged Benin to put in place a strategic framework for comprehensive child protection. We support this recommendation.
We welcome Benin's commitment to good governance and the measures taken, particularly in the security sector, to eradicate corruption. However, we are concerned that the lack of independence of the judiciary is a barrier to further progress.
We have the following recommendations:
Take all necessary steps to enforce laws on forced labour, modern slavery and human trafficking, in particular on child trafficking.

Take practical measures to ensure the full and proper implementation of the Children's Act, as recommended by the Committee on the Rights of the Child in 2016.

Adopt an open, merit-based selection process when selecting national candidates for UN Treaty Body elections.
Published 10 November 2017