Universal Periodic Review 27: UK under review, opening remarks
This statement was delivered by Minister Sir Oliver Heald on 4 May 2017 at the 27th session of the Universal Periodic Review.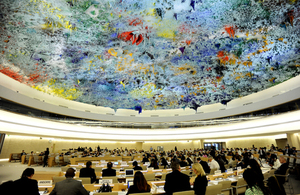 Introduction
I am Sir Oliver Heald, Minister of State for Justice for the UK Government. It is my great pleasure to be here today leading the United Kingdom delegation for this Universal Periodic Review. We represent, of course, not just the whole of the United Kingdom - England, Wales, Scotland and Northern Ireland – but also the Crown Dependencies of Jersey, Guernsey and the Isle of Man, and the UK's Overseas Territories. I am supported here today by officials from my own department, as well as, by colleagues from the Devolved Administrations of Northern Ireland, Scotland and Wales.
General Election
As many of you will be aware, the United Kingdom will hold a General Election in just over one month's time. However, under our constitutional framework, essential business - including international business - continues as usual during the election period. Moreover, the current Government retains the responsibility to govern, and Ministers continue in charge of their departments.
Today is of course not an occasion for party political comments. However, when it comes to any future commitments, we are of course in the hands of the public. I shall therefore simply set out the progress the UK has made on human rights since Lord McNally, then Minister of State for Justice, appeared before you in 2012.
Exiting the EU
Turning now to other recent developments, it will not have escaped your notice that last year, the United Kingdom voted to leave the European Union.
And it seems only appropriate that I address that historic decision.
I would like to reconfirm what the Prime Minister said in her address to the UN Security Council last year: " the United Kingdom has always been an outward-facing, global partner at the heart of international efforts to secure peace and prosperity for all […] and that is how we will remain […]when the British people voted to leave the EU, they did not vote to turn inwards or walk away from any of our partners in the world."
There is much work to be done following the Prime Minister triggering the process to leave the EU. The UK Government published a White Paper on 30 March, on its approach to converting existing EU law into domestic law on the day the UK leaves the European Union.
That White Paper also makes clear that the UK Government has no plans to withdraw from the European Convention on Human Rights.
Domestic human rights framework
Likewise, while this Government has examined the case for replacing our Human Rights Act with a new Bill of Rights, I want to be clear that rights and liberties were protected in our law long before the Human Rights Act was passed in 1998, and will continue to be protected in the future.
United Nations commitments
So how does our changing role in Europe impact on our work here at the UN?
The UK played a key role in the United Nations at its inception. We remain a confident, strong and dependable partner internationally – true to the universal values shared by the United Nations.
Our commitment to human rights has not changed since then, and whatever the outcome of the Election I am confident it will not change in the future.
We are a strong advocate of the Human Rights Council and the mechanisms at its disposal to strengthen human rights protection globally.
We continue to stand up for a rules based international system and for international law. For our Human Rights Council candidacy we set out our pledges to:
strengthen the protection of human rights in the UN's work

translate the 2030 Agenda for Sustainable Development into action both at home and around the world, leaving no-one behind

make a stand for freedom of religion or belief

work to end violence against women and girls, and promote women's full participation and leadership in political and economic life, and

promote open societies and challenge the threat to civil society.
We were honoured to be re-elected to the Human Rights Council to serve again until 2019. And I know my colleague, Baroness Anelay, has been a frequent visitor to Geneva, working tirelessly to deliver real change through those pledges.
Universal Periodic Review commitments
I would now like to turn to this, the UK's 3rd cycle of UPR.
The UK has a deep commitment to the success of the Universal Periodic Review. It is an important mechanism of universal and constructive peer review. It allows the sharing of best practice, and promotes the continual improvement of human rights on the ground.
The UK also intend to use this UPR cycle to make constructive recommendations on an area which is a priority for the UK – modern slavery.
Modern Slavery is a global problem and requires a global response.
We believe the UPR offers a helpful avenue to take forward our international objectives in eradicating modern slavery and will therefore be looking to raise this issue in all sessions during the 3rd UPR cycle.
Working with Civil Society and Human Rights Institutions
Civil Society and National Human Rights Institutions have a key role in the success of the UPR process, and ahead of our review, engagement events took place in all nations of the United Kingdom, including an event I hosted last week.
I understand that our National Human Rights Institutions will be watching today's proceeding via the webcast, and I thank them for joining us via this route, especially so early in the day UK time.
Our Civil Society and National Human Rights Institutions welcome the opportunity to share their views, to tell us where they feel we need to improve, and occasionally, where they are happy with progress. We appreciate this frank and constructive dialogue.
This engagement helped shape our National Report, directing us to the areas that not only featured in the last cycle of UPR, but which were also key areas for our Civil Society and National Human Rights Institutions.
In developing the UK National Report, the UK Government reviewed all previous UN recommendations from 2012 and updated the UK position to bring our categorisation into line with the Human Rights Council's accepted classification of either "supported" or "noted".
The UK Government "supports" (that is, it has either fully implemented or intends to do so) 66 recommendations from 2012; whilst it is "noting" (that is, it has taken some steps but it is not fully implementing) 65 recommendations from 2012. "Noted" does not mean ignored and some recommendations which we have previously noted, have in fact been supported later on.
I don't intend to cover the contents of the National Report itself now in any detail, as I would like to leave plenty of time to both listen to and respond to questions.
Response to advance questions
I would however, like to address some of the issues member States have raised in advance of this session. We have received a number of these, and I will try to address as many as possible.
Germany, Mexico, Spain and Norway raised questions on the UK Government's commitment to existing human rights protections, and I hope that my earlier remarks have addressed these concerns.
Slovenia and the United States of America both raised issues regarding Northern Ireland. Taking these points in order, in response to Slovenia's question on anti-abortion law in Northern Ireland; proposals to make abortion available to women carrying a fetus with fatal abnormality were presented to the Northern Ireland Assembly in 2016. The measure was defeated.
Since then, a Northern Ireland Inter-Departmental Working Group on Fatal Foetal Abnormality presented a report to the then Justice and Health Ministers in October 2016. Proposals were to be presented to the Northern Ireland Executive in January 2017 but this proved impossible due to political events which saw the collapse of the Executive and fresh Assembly elections.
It is anticipated that work on reform of the law will continue following the election and the formation of a new Northern Ireland Executive. Any legislative reform will, however, be subject to the will of the Northern Ireland Assembly.
The United States of America, asked about the establishment of a Historical Investigations Unit. The Stormont House Agreement of December 2014 provided, amongst other measures, for the establishment of an independent Historical Investigations Unit to take forward investigations into outstanding troubles-related deaths.
The UK Government has indicated £150m of additional funding will be available for the new institutions to deal with the past in a balanced and proportionate way. Following the "Fresh Start" Agreement of November 2015, areas of common ground in Northern Ireland were developed on the legacy institutions.
The UK Government will continue to work with Northern Ireland parties, victims' groups and other stakeholders to seek a resolution that will allow the Stormont House Agreement bodies to be established.
Slovenia and Sweden asked about the UK Government's stance on corporal punishment and the protection of children in the home. The UK Government does not condone any violence towards children and has clear laws to deal with it.
The 'reasonable chastisement' defence in s.58 Children Act 2004 cannot be used when someone is charged with assault causing actual or grievous bodily harm, or with child cruelty. But we do believe that parents should not be criminalised for giving a child a mild smack in order to control their behaviour.
Czechia asked about children in the Armed Forces. The UK Government sees the recruitment of individuals between the ages of 16 and 18 as offering a range of benefits to the individual, the Armed Forces and society, including providing a highly valuable, vocational training opportunity for those wishing to follow a career in the Armed Forces.
We take our duty of care for entrants under 18 extremely seriously. We have robust, effective and independently verified safeguards in place to ensure that under-18s are cared for properly.
There is no compulsory recruitment into the Armed Forces.
Service personnel under the age of 18 are not deployed on any operation outside of UK except where the operation does not involve personnel becoming engaged in, or exposed to, hostilities.
Sweden, Switzerland, Mexico, Norway and the Netherlands asked questions on the compatibility of our counter-terrorism measures with our human rights obligations. I can be clear that the UK Government continues to believe that its terrorism legislation and measures comply with our international human rights obligations. Legislation is closely scrutinised by the UK Parliament during its passage, and once in force can be kept under scrutiny by Parliament, through Committees such as the Joint Committee on Human Rights.
Slovenia welcomed the inclusion of specific wording regarding older people in our National Report, and asked what the UK Government had done to strengthen the protections for older people.
I can advise, we have, amongst other measures, extended the right to request flexible working to all qualifying employees, and introduced automatic enrolment into a workplace pension scheme.
The Care Act 2014 prioritises independence and well-being, and gives people greater choice and control of their care. Additionally, I would like to mention the Age Action Alliance, a partnership of civil society, public and private sector organisations, which works to find new ways to help improve the lives of the most disadvantaged older people and prevent deprivation in later life.
Finally, the United States of America and the Netherlands, asked about hate crime.
The UK has a strong legislative framework in place to tackle hate crime. These include criminal offences of inciting hatred on the grounds of race, religion and sexual orientation, specific racially (includes nationality) and religiously aggravated offences and enhanced sentencing for crimes that are motivated by race, religion, sexual orientation, disability or gender status of the victim.
Additionally, my Government launched the Hate Crime Action Plan in 2016. This Action Plan focused on five key areas, including building our understanding of hate crime through improved data, and from April 2017, all police forces must provide disaggregated religious hate crime data.
Conclusion
Mr President, distinguished delegates, thank you for the opportunity to deliver these opening remarks re-confirming the importance the UK attaches to our international human rights commitments. I now look forward to hearing your views.
Published 4 May 2017