World news story
Universal Periodic Review 27: UK under review, closing remarks
This statement was delivered by Minister Sir Oliver Heald on 4 May 2017 at the 27th session of the Universal Periodic Review.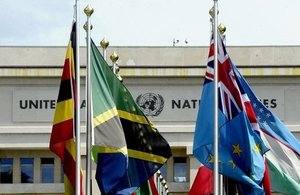 The UK has always been a proud and pro-active member of the United Nations. We are a confident, strong and dependable partner internationally, committed to maintaining our strong global role in relation to human rights and to complying with our international human rights obligations, which includes our active participation and advocacy of the UPR.
We have engaged in this UPR session in a spirit of openness, and have listened with interest to the viewpoints and perspectives that have been expressed, and today's discussions have been fascinating. We do believe in this process.
I have tried to respond to as many issues as possible, and it is clear that some of the following themes are of real importance to you,
the importance of our ensuring the ongoing protection of equality and human rights as the UK leaves the EU

a desire for the UK Government to focus on strengthening its approach to international treaties

a keen interest in the impact of changes to welfare benefits, particularly in relation to vulnerable people, and also access to justice changes including legal aid. I should say that the government has made clear it will be reviewing legal aid over the course of the next year as it promised to do when legal aid changes were made last year. A desire to see continued monitoring of these changes and also for Government to look at the cumulative impact of such reforms

a focus on supporting for those with mental health needs and access to healthcare more generally

the continued importance of tackling modern slavery and human trafficking

improving safety in prisons, and issues around immigration detention

the importance of counter terrorism measures being human rights compliant
It has been a privilege for me to be able to represent the United Kingdom today, and finally, I would like to give my thanks to you, Mr President, for the way you have chaired this session so effectively.
Published 4 May 2017