World news story
Universal Periodic Review 27: UK Statement - South Africa
This statement was delivered by the UK on South Africa at the 27th Session of the Universal Periodic Review.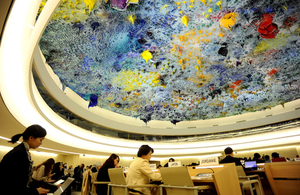 The UK welcomes the delegation to Geneva and we commend South Africa's continued commitment to the UPR process.
Furthermore, we welcome the steady implementation of their National Development Plan, we are encouraged by substantial progress to ensure access to health services for all and we acknowledge South Africa's leading role internationally to end discrimination on the grounds of sexual orientation.
We recommend:
Enhancing the prevention, investigation and prosecution of violent crimes against individuals belonging to vulnerable groups.

Strengthening domestic efforts to tackle modern slavery of children and rural workers, including through ratification of the ILO Protocol to the Forced Labour Convention.

Adopting an open, merit-based selection process when selecting national candidates for UN treaty body elections.
Published 10 May 2017