World news story
Universal Periodic Review 27: UK Statement - Morocco
This statement was delivered by the UK on Morocco at the 27th Session of the Universal Periodic Review.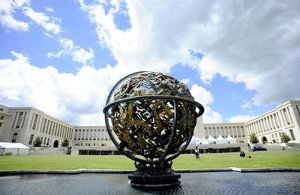 The United Kingdom commends the Kingdom of Morocco's ratification of OPCAT and ongoing efforts to set up a National Preventive Mechanism against torture.
We recognise that the Kingdom of Morocco has embarked on comprehensive reform of the justice sector. We welcome the aim to increase the separation of powers, and to consolidate the rule of law, in line with the country's international commitments and its new constitution. We particularly support Morocco ending the trial of civilians in military courts. We encourage the accelerated efforts to fully implement these reforms.
We recommend:
Revision of the penal code and the criminal procedure code as part of the ongoing reform of the justice sector.

The development of a national strategy to tackle modern slavery and ratification of the 2014 ILO protocol to the Forced Labour Convention.

The adoption of an open, merit-based selection process when selecting national candidates for UN Treaty Body elections.
The UK strongly supports freedom of opinion and freedom of the press. We welcome the adoption of a new Press Code and urge the implemention of reforms guaranteeing access to information and protecting journalistic sources.
Published 2 May 2017