World news story
Universal Periodic Review 27: UK Statement - Indonesia
This statement was delivered by the UK on Indonesia at the 27th Session of the Universal Periodic Review.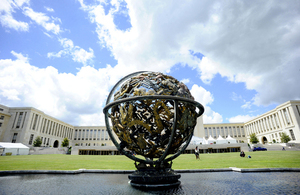 The UK recognises some improvements in Indonesia including on the rights of persons with disabilities and trends towards the recognition of "adat" land rights.
We recommend:
An immediate moratorium on the use of the death penalty.

To ratify the 2014 ILO protocol to the Forced Labour Convention, 1930 (P029) and to implement existing labour regulations requiring the formal documentation of all workers and minimum standards in working conditions.

To adopt an open, merit-based selection process when selecting national candidates for UN Treaty Body elections.
The UK is deeply concerned about the execution of eighteen prisoners since 2014. We are concerned about the potential for abuse of workers in Indonesia's natural resources sector; and the deterioration of rights of LGBT persons, including discriminatory statements made by government ministers. The implementation of Government Regulation in lieu of Law No. 1/2016 on Child Protection is of concern due to the potential use of chemical castration as a punishment for some sex offenders.
Published 3 May 2017