World news story
Universal Periodic Review 27: UK Statement - India
From:

Part of:

Published:

4 May 2017
This statement was delivered by the UK on India at the 27th Session of the Universal Periodic Review.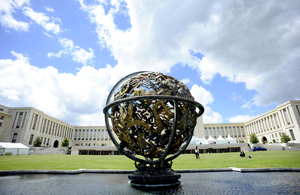 The UK welcomes India's continued engagement with the UPR process, and the acceptance of many previous recommendations. We note in particular India's commitment to ratify the Convention against Torture: We encourage its swift ratification.
We look to India to uphold all freedoms and rights guaranteed not only in its strong constitution, but by the international instruments to which India is a party. While we welcome continued efforts to uphold the rights of women and girls, and to ensure full implementation of associated legislation, challenges still remain. We would welcome an update of steps being taken in this area.
Recommendations:
to bring into law the Prevention of Communal and Targeted Violence bill (2013)

to develop a national strategy to tackle exploitative labour practices and to ratify the 2014 ILO protocol to the Forced Labour Convention and continue to strengthen protections for children

to adopt an open, merit-based selection process when selecting national candidates for UN Treat Body elections