World news story
Universal Periodic Review 27: UK Statement - Finland
This statement was delivered by the UK on Finland at the 27th Session of the Universal Periodic Review.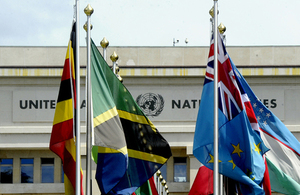 The United Kingdom acknowledges Finland's good human rights record since the last Universal Periodic Review and welcomes Finland's progress in ratifying a number of core human rights treaties, particularly the UN Convention on the Rights of Persons with Disabilities.
The United Kingdom also recognises Finland's efforts in addressing Trafficking in Human Beings. We welcome Finland's ratification of the 2014 Protocol to the Forced Labour Convention, and the development and adoption of the 2016 - 2017 National Plan of Action and related legislative amendments. To reinforce these efforts, we encourage continued work to improve proactive identification of victims of trafficking, particularly women and Finnish nationals. The UK is dealing with similar challenges and we stand ready to support.
We have 3 recommendations:
To review criteria for prosecuting cases of rape and sexual assault, ensuring that lack of consent, not only the use of force, is given adequate consideration when bringing cases for prosecution.

To conduct effective monitoring and evaluation of the 2016 - 2017 National Plan of Action against Trafficking in Human Beings and related legislative amendments, and report back in a subsequent UPR report.

To adopt an open, merit-based selection process when selecting national candidates for UN Treaty Body elections.
Published 3 May 2017