World news story
Universal Periodic Review 27: Tunisia
This UK statement on Tunisia was delivered at the adoption of the reports during the 27th Session of the Universal Periodic Review on 21 September 2017.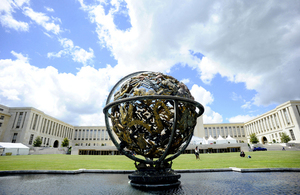 The UK thanks Tunisia for its continued commitment to the Universal Periodic Review process.
We welcome the adoption of the recent law on violence against women, which is a significant step in tackling this issue.
We welcome Tunisia's acceptance of the UK's recommendation regarding the need for continued progress on establishing the constitutional bodies responsible for safeguarding human rights. We continue to urge Tunisia to swiftly establish and operationalise the Constitutional Court and other bodies, which will provide a critical foundation for embedding the democratic transition.
We support Tunisia's continued efforts to eradicate the practice of torture and ill-treatment, and encourage Tunisia to ensure the national preventive mechanism is provided with adequate resources and support to carry out its functions.
We note, with concern, that the practice of forced examinations of LGBTQI persons continues. We urge Tunisia to ensure the protection of LGBTQI persons from all forms of stigmatisation, discrimination, and violence, and abstain from unlawful examinations.
Published 21 September 2017