A new law which will help courts in England and Wales deal with people accused of serious human rights violations has received Royal Assent.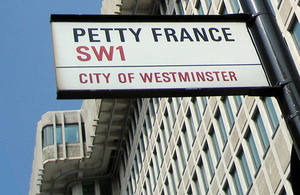 The United Kingdom has 'universal jurisdiction' over a small number of serious offences, which means a person accused of committing these crimes in another country can be brought to justice in our courts.
Offences covered by universal jurisdiction include certain war crimes, torture and hostage-taking and, under UK law, anyone can apply to the courts for an arrest warrant to ensure those guilty of these crimes abroad face justice here.
New changes to the law in the Police Reform and Social Responsibility Act will not affect this right and those accused of these grave crimes will still be brought to justice if there is sufficient evidence against them. However, as of today, the consent of the Director of Public Prosecutions will now be required before an arrest warrant is issued in universal jurisdiction cases brought by individuals.
This change to the law will ensure that the system is no longer open to abuse by people seeking warrants for grave crimes on the basis of scant evidence to make a political statement or to cause embarrassment.
Justice Secretary Kenneth Clarke said:  
 
'We are clear about our international obligations and these new changes to existing law will ensure the balance is struck between ensuring those who are accused of such heinous crimes do not escape justice and that universal jurisdiction cases are only proceeded with on the basis of solid evidence that is likely to lead to a successful prosecution.
'These changes are essential to ensure we do not risk damaging our ability to help in conflict resolution or to pursue a coherent foreign policy.'
In the past, attempts have been made to obtain warrants to arrest visiting foreign dignitaries such as Henry Kissinger, Chinese Trade Minister Bo Xilai and Tzipi Livni, former Foreign Minister and now leader of the Opposition in Israel.
Notes to Editors
War crimes under the Geneva Conventions Act 1957, and a small number of other grave offences, are subject to universal jurisdiction. This enables prosecution to take place here even though the offence was committed outside the United Kingdom, and irrespective of nationality. 
A private prosecution can be brought in universal jurisdiction cases. It is open to any individual to initiate criminal proceedings by applying to Westminster Magistrates Court for a summons or an arrest warrant. 
The evidence required for the issue of a summons or warrant is far less onerous than that required by the Crown Prosecution Service (CPS) in determining whether a prosecution should go ahead. The court must simply be shown some information that an offence has been committed by the accused, and it does not need to decide that there is a realistic prospect of conviction. 
For more information contact the Ministry of Justice Press Office on 020 3334 3540.
Published 15 September 2011