World news story
United Kingdom supports project to prevent violence amongst youngsters in Alta Verapaz
The British Embassy has sponsored a street soccer tournament "Goals for Life" as part of a programme aimed at raising awareness and preventing violence amongst children and youth in Alta Verapaz, Guatemala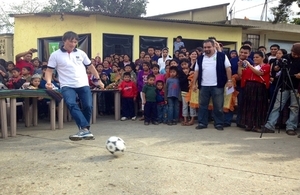 The tournament took place on December 6th and involved about 300 youngsters living in San Cristobal, in the northern department of Alta Verapaz. Young leaders of the community and children from local schools competed from 2 pm in one of the town's main streets. The tournament was the culmination of a series of previous activities that included training youngsters on specific methodologies that taught them to use sports and leisure spaces as tools to promote the prevention of violence.
With an investment of more than 180,000 quetzals (US$23,000) the activity was organized by the British Embassy with the support of the Young Men's Christian Association (YMCA). The event was attended by Andrew Tate, Deputy Head of Mission of the British Embassy; Romeo Suram Chum, Mayor of San Cristobal; Ronal Sierra, Governor of Alta Verapaz; and Olivia Calel, representative of the Guatemalan Presidency Office for Children, Youth and Women, amongst others.
To mark the event, Andrew Tate, Deputy Head of Mission at the British Embassy, said:
One of the priorities of the Embassy is to work with local authorities and civil society to eradicate the culture of violence and we firmly believe that sport is one of the best alternatives. We have a moral obligation to promote societies that are free from violence. It's the right thing to do, but it is also a strategic necessity. We know that greater protection of human rights leads to greater stability and greater prosperity. By tackling the violent culture with young Guatemalans, we're contributing towards building a better future for them.
The "Goals for Life" tournament is a projects sponsored by the British Government in Guatemala, El Salvador and Honduras. It's an effort towards contributing to build peace and stability in the Central American Northern Triangle.
Published 8 December 2014