World news story
United Kingdom supports CICIG
The British Ambassador to Guatemala, Thomas Carter, commented on the work of the International Commission Against Impunity in Guatemala (CICIG).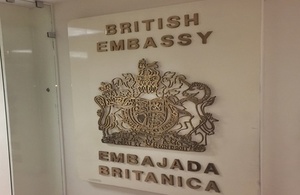 Ambassador Carter said:
The United Kingdom continues to give its unconditional support to the CICIG Commissioner Ivan Velasquez and to the Prosecutor General, Thelma Aldana, in their fight against impunity and corruption in Guatemala. We also praise their joint work with the Guatemalan authorities to build a credible, impartial and effective justice system.
Published 13 February 2017