World news story
United Kingdom promotes political and economic participation of indigenous women in Guatemala
British Ambassador to Guatemala, Sarah Dickson, visited the northern Guatemalan department of Sololá to inaugurate a UK-funded workshop aimed at strengthening indigenous women's economic and political leadership skills and potential.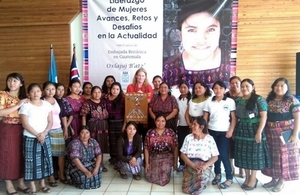 The event gathered leaders from five departments to discuss the advances and challenges regarding indigenous women's political and economic involvement in leadership roles. The attendees addressed issues such as women's involvement in local political movements and the status of their representation in the upcoming general election process in Guatemala. Local political actors were also present and invited to provide opportunities for women to talk about issues of importance to them, such as security, education and local participation.
Participants also discussed the lack of economic opportunities for indigenous women, which is linked to very low education rates: only 15.6% of Guatemala's female population are educated to at least secondary school level, compared to 21% of males. Patriarchal traditions remain strong in Guatemala which often ties women to a domestic role, but tough economic conditions may push women into working long hours for very little reward. Very young - and sometimes forced- marriage pushes indigenous women even further into poverty and exclusion.
The workshop also emphasised that for indigenous women, it is imperative assistance programmes take into account their cultural heritage and appreciate the use of indigenous languages, a principle which has been largely ignored up until recently. Ambassador Dickson took the opportunity to welcome the participants of the workshop in their mother tongue.
This project is being implemented by the Guatemalan organization Oxlajuj Batz (Thirteen Threads), a group of indigenous craftswomen and leaders in their respective communities that promotes democracy, health, prosperity and entrepreneurship as a way of improving women's conditions in the countryside.
To mark the inauguration of the event, British Ambassador to Guatemala, Sarah Dickson, said:
I welcome this project that seeks to promote the exercise of civil, economic and political rights of indigenous women in the country. The majority of the Guatemalan population is female however unfortunately this hasn't been represented in the public sector. In this electoral year I hope women are empowered to put in practice these rights for the benefit of themselves, their families and their communities. The United Kingdom stands ready to support these efforts.
Published 18 February 2015