World news story
United Kingdom is committed to supporting Guatemala's prisons system
The British Ambassador to Guatemala, Sarah Dickson, launched a UK funded workshop aimed at strengthening the penitentiary system's capabilities to treat women deprived of liberty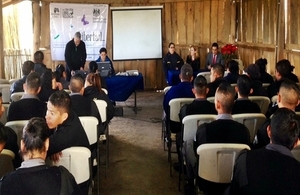 The training will raise awareness on international best practices to treat female prisoners, consider the rights of their children, and tackle the discrimination against these groups. The workshop is being delivered by local NGO Colectivo Artesana, who have vast experience in this topic and are fully familiar with the United Nations' Bangkok Rules.
The United Nations Rules for the treatment of women prisoners and non-custodial measures for women offenders (the Bangkok Rules) were adopted by the UN General Assembly in December 2010. They fill a long-standing lack of standards by setting out the specific characteristics and needs of women offenders and prisoners.
Some of the topics covered during the training included: admission procedures, healthcare guidelines, humane treatment, search procedures and consideration for the children who accompany their mothers into prison, amongst other issues.
The launch was attended by the Director of the Penitentiary System, Anthony Pivaral; the Director General of the School for Penitentiary Studies and coordinator of Penitentiary Reform, Herman Santos; and Andrea Barrios, General Coordinator of Colectivo Artesana. Staff of the Guatemalan prisons system, including prison guards, attended the workshop.
Published 9 December 2014