World news story
United Kingdom establishes Chamber of Commerce to strengthen business with Guatemala
The British Chamber of Commerce in Guatemala (BritCham) was inaugurated today at the Residence of Ambassador Carolyn Davidson.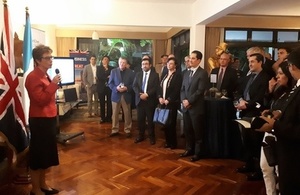 For the first time, an institution will provide business solutions to promote trade and investment between the United Kingdom and Guatemala. Great Britain is the fifth largest economy in the world, where trade represents 58% of its GDP, and has one of the most efficient markets globally for investment and businesses.
The Chamber will provide advice to identify target markets, develop marketing campaigns, expand the business network, and explore opportunities in specific sectors within both economies. BritCham will offer three kinds of membership, opening its doors to companies of all sizes and business nature.
As a starting point, the Chamber will evaluate the actual status of the economic relations between the United Kingdom and Guatemala. According to official figures, in recent years Guatemala has exported up to US$100 million of goods annually to the United Kingdom, mainly in coffee, sugar, bananas and clothing products. The imports from Great Britain equal an average of US$40 million per year, mainly technological products, pharmaceutics and vehicles.
One objective of the Chamber will be to increase and balance those figures, as well as to analyse the challenges and opportunities that the exit of UK from the EU (BREXIT) will bring. BritCham will work closely with the British Embassy in Guatemala to advance a shared agenda that allows further promotion of open markets, free trade, and a continued improvement in the business climate and legal certainty in the country.
To mark the event, Carolyn Davidson, British Ambassador to Guatemala, said:
We believe that the Chamber is an important and fundamental pillar for the promotion of trade and investment between our countries. Business-business exchanges make a real difference and the Chamber will be vital in supporting that. We also want to work closely with the Guatemalan authorities to identify opportunities to enhance our bilateral trade.
The president of BritCham, Norman Laxton, said:
With the establishment of BritCham, and taking into account global trends and the context of Brexit, we want to seize the opportunities available here in Central America's largest economy. We know the potential of Guatemala and the United Kingdom, and I am sure that we can increase the volume of trade that we currently have.
For more information visit BitCham's website
Published 20 July 2018