World news story
United Kingdom contributes to strengthening forensic capabilities in Guatemala
The British Embassy in Guatemala has sponsored the development of computer software for the administrative management of the expert areas of the National Institute of Forensic Sciences of Guatemala (INACIF).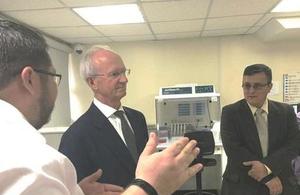 The software called 'Management Software Supplies and Assets for the Expert Area' seeks to correct the problems associated with the generation and traffic of purchase requests from different areas of INACIF.
As part of an institutional strengthening strategy, under the line management of Dr. Jorge Nery Cabrera, Director of INACIF, a comprehensive technology platform will be introduced. The initiative will systematize the internal processes of the organization (expert and administrative processes) and the different core components of INACIF (Forensic Medicine, Forensic Laboratories and the different administrative units).
It was established to strengthen the administrative processes performed by the expert areas. From this account, the British Embassy in Guatemala has funded with more than 115,000 quetzals to manage the inputs and assets of INACIF. This contribution includes the consulting services, which have been focused on the analysis process and software development that can generate purchase requests for technical and scientific areas.
Part of this contribution was also used to sponsor two specialized workshops aimed at strengthening the capabilities INACIF in human identification and forensic psychiatry.
To mark the UK involvement in this initiative, the British Ambassador in Guatemala, Thomas Carter, said:
We believe that this contribution gives the due importance to streamlined processes that will allow INACIF to work more effective and at the same time, share knowledge and share the new technology and naturally learn scientific methods to implement, on issues such as quality management.
Published 29 June 2016