World news story
United Kingdom advocates the protection of vulnerable girls in Guatemala
The British Ambassador to Guatemala, Thomas Carter, visited a group of more than 30 girls who struggle to stay away from violence and gangs.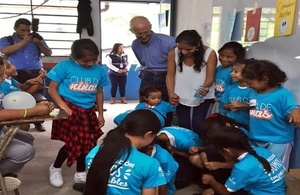 They are currently participating in a programme that encourages them to set personal goals.
The girls come from Zone 13 of Guatemala City and the Community "Tierra Blanca" in the Municipality of Mixco. The Ambassador heard that through a series of educational and recreational workshops which encouraged sharing life experiences, the girls gained motivation to set objectives and achieve specific goals.
The participants, young girls between the ages of 8 and 16, live in areas at risk. They are not only exposed to the violence of gangs, but they're also highly vulnerable to sexual violence and early pregnancy, according to official statistics.
The project, launched last year, is implemented by the Municipalities of Guatemala City and Mixco, together with Glasswing International, a global organisation that addresses the root causes of poverty and violence through education, health and community empowerment.
With financing of Q 800,000 over two years, the UK Government and its implementing partners are aiming to change the lives of nearly 100 girls. The objective includes following up on their personal plans, family ties, and professional goals.
To mark his visit to the project, the British Ambassador to Guatemala, Thomas Carter, said:
I was impressed by the determination of these girls to achieve their goals and not to give in to violence and fear. It would be good if more people and institutions could support this project. Britain champions the rights of women and girls around the world and I firmly believe that these girls will contribute to building a better future for Guatemala.
Published 19 October 2017