Government response
UNICEF report on child deaths
Justine Greening responds to a UNICEF report on child mortality.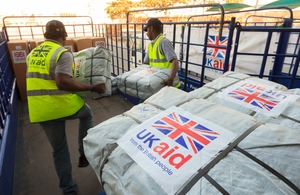 A report by UNICEF has shown how global action has saved the lives of 90 million children over the last 20 years. But the report also states that we must accelerate progress, since at the current rate it will take until 2028 to achieve the Millennium Development Goal of cutting the rate of child deaths by two-thirds – by which time as many as 35 million more children could die from preventable diseases.
In response to the report International Development Secretary Justine Greening said:
There is much to welcome in these new figures. Child mortality has halved and 90 million children's lives have been saved over the past two decades.

But 18,000 families still suffer the loss of a child every day, mostly due to entirely preventable diseases. Britain will continue to play its part in ending this scandalous waste of life, helping to give the world's most vulnerable children a brighter future.
The 2013 Progress Report on Committing to Child Survival: A Promise Renewed examines trends in child mortality since 1990, analyses the main causes of under-five deaths, and highlights national and global efforts to save children's lives.
Published 13 September 2013