World news story
UNCTAD Trade and Development Board: UK remarks on trade and development
Delivered during a panel discussion entitled 'Is the world integrating or disintegrating?' during the UNCTAD Trade and Development Board on 12 September 2017.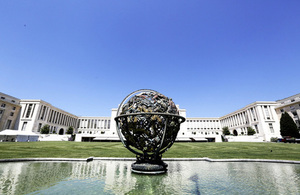 Given that both Secretary General Kituyi's comments and the note circulated by the Secretariat made reference to the United Kingdom's decision to leave the European Union, we would like briefly to set out the UK's longer term approach to trade and development in that context.
The UK Government is currently reviewing its trade policy as we prepare to leave the EU. We remain committed to ensuring developing countries can reduce poverty through trading opportunities. We enjoy excellent trading relationships with developing countries and our ambition is to avoid trade disruption for all, as far as possible and we want to continue our strong trading links.
On 25 June 2017 the UK announced that, as we leave the EU, we will secure existing duty-free access for the world's poorest countries to UK markets and aim to maintain current access for other developing countries which benefit from reduced or zero tariffs. Our first priority is to deliver continuity in our trading arrangements on leaving the EU, and we aim to maintain current access to the UK for developing countries. Once we have left the EU, we will be able to build on our track-record as a champion of trade and development, strengthening our existing support and seizing new opportunities to increase trade links.
Published 12 September 2017