World news story
UN workshop on preventing sexual violence in conflict in DRC
Two-day workshop focused on the development of the Implementation Strategy of the Joint UN-DRC Communiqué on Sexual Violence in Conflict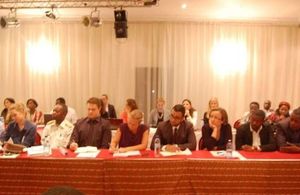 On 31 July 2013, Ms Diane Corner, UK Ambassador to the DRC, and Dr Andrew Long, from the UK's Preventing Sexual Violence Initiative (PSVI) Team, attended the closing ceremony of a two-day workshop focused on the development of the Implementation Strategy of the Joint UN-DRC Communiqué on Sexual Violence in Conflict.
The workshop was convened by the Ministry of Gender, in collaboration with the UN Team of Experts. It aimed to identify actions to take/forward recommendations from the joint communiqué signed in March 2013 and subsequent assessment mission.
The opening ceremony, which took place on 30 July 2013, was opened by the Minister of Gender and attended by 3 other government ministers: the Minister of Interior, Minister of Education, and Minister of Justice. Also in attendance were Kinshasa's Provincial Minister for Gender, members of the police, the army, and the security services. The UN Stabilisation Mission to the DRC (MONUSCO), other UN agencies, and NGOs were also represented.
In her remarks, the Ambassador said: "We want first and foremost to recognise the commitment of our Congolese partners, represented in this workshop by the Minister of Gender.
We also want to highlight the important work of UN Special Representative on Sexual Violence in Conflict, Zainab Bangura, in supporting the DRC Government and engaging the international community.
As part of the UK's G8 Presidency this year, we want to bring about significant change in the prevention of sexual violence in conflict and are ready to support our partners working in this area."
The Ambassador outlined the assistance that the UK is already providing to address this issue in the fields of health and security sector reform, including humanitarian support to over 15,000 survivors of sexual violence each year.
In her closing speech, the DRC's Minister of Gender said: "The Congolese Government is determined to eradicate sexual violence in conflict, which has now become commonplace in eastern DRC".
Published 9 August 2013