UKTI to send delegation of Australian fintech companies to London
UKTI Australia will send 10 Australian fintech companies to London this September.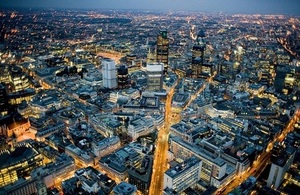 UK Trade & Investment (UKTI) Australia has announced the names of 10 successful Australian fintech companies who will take part in a delegation to London this September, to coincide with London Fintech Week.
The successful companies will receive airfares courtesy of British Airways, a heavily reduced entry fee to London Fintech Week and the opportunity to meet with London-based accelerators, successful mentors, industry experts and leading peers through an exclusive programme organised by UKTI.
Consul General and Director General for UKTI Australia & New Zealand, Mr Nick McInnes said:
This is a fantastic opportunity for some of Australia's brightest startups and SMEs to learn from the thriving fintech industry in London.

The response from Australian companies has been overwhelming which tells us that interest in the UK market is strong. Whilst it is only possible for 10 companies to participate in this particular mission, UKTI is committed to supporting all Australian companies who wish to explore opportunities for expanding into the UK.

The companies chosen to take part in the delegation were those likely to benefit most from the mission, with a high probability of the UK featuring in their expansion plans.
Regional Commercial Manager South West Pacific for British Airways, Nicole Backo said:
We are delighted to be sponsoring the Fintech Mission and supporting these successful Australian companies in their quest to grow their businesses in the UK.

Fintech is an exciting, innovative sector and we are keen to continue to support them to grow both in Australia and the UK.
UKTI has been working closely with the Australian fintech community to foster collaboration between the two countries and encourage growing companies to consider the UK in their expansion plans.
UKTI also recently supported British peer-to-peer lending companies RateSetter and ThinCats with their expansions into Australia.
UK Trade & Investment's London Fintech Week Delegation:
About UK Trade & Investment
UK Trade & Investment is the British government's commercial arm, which supports the international growth of British businesses, as well as the investment and expansion of global businesses into the UK.
For more information on the delegation or how UKTI can help your company please contact:
Hannah Lewis
Communications Officer
UK Trade & Investment Australia
Ph: 02 8247 2220
E: hannah.lewis@mobile.ukti.gov.uk
Published 23 June 2015