UKTI supports UK market entry of Irish companies
UKTI Ireland advises Irish companies on support available to grow their business at 'Accessing the UK Market forum' event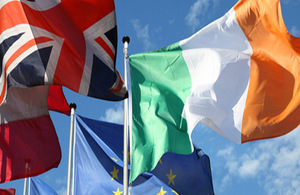 UK Trade and Investment (UKTI) Ireland participated in an international market event called 'Accessing the UK market' organised by the Rubicon Centre in Cork on Wednesday 10th December 2014.
Paul Caplis, Head of Inward Investment, UKTI Ireland, advised the delegates on the help and support available to Irish companies with an interest in setting up in the UK.
The event saw both Irish and UK specialists address more than 50 delegates on how to successfully plan and build strategic alliances for an easier entry to the lucrative UK market.
Speaking of the event, Paul Healy, General Manager of the Rubicon Centre said,
This event was all about helping these young Irish companies to increase their profile and grow their sales in the UK market.

Last year was an extremely positive one for Irish businesses accessing the UK market and with further strategic business advice, market research, and lead generation, it is possible that the coming 12 months can surpass this.
Irish companies in the UK
The number of Irish companies targeting the UK has nearly doubled over the past 4 years.
The event provided a unique forum to strengthen and deepen business relationships and to identify new joint business opportunities. There was particular emphasis on the relationship between Ireland's Information and Communications Technology (ICT) and food and drink sectors and UK industry,
Forum speakers
A number of specialists gave their views on growing their business in the UK including:
• Frank Madden, Crest Solutions • James Blackmore, JMB Partnership • Tony Saraiva, Public procurement expert at Enterprise Europe Network
Contacts
Contact UKTI Ireland for advice on setting up your business in the UK.
Published 29 January 2015