World news story
UKTI supports growth of luxury vehicle sales to China
Promotional events and other assistance by UKTI's advanced engineering team in China contributed to a massive rise in UK luxury car exports.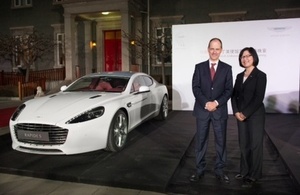 Sales of luxury cars to China are helping drive forward UK exports to that market. UK automotive exports to China accounted for nearly $5.5 billion in 2012. This equates roughly to 33% of the total UK exports to China.
For many UK premium vehicles companies China is now amongst their most important markets globally. China:
is Jaguar Land Rover's largest single market

accounts for nearly 30% of sales for Rolls Royce motors

is the fourth largest market for Aston Martin globally after only entering the market fully in June 2011
A number of other companies report that China is equally important to them.
UKTI assistance
UK Trade & Investment (UKTI) in China is helping UK automotive companies enter this market and build market share. Assistance includes:
advice on sales strategy

product promotion

identification of possible partners
Although many might think that such companies are resourced enough to do this on their own they often look for support. UKTI and the wider Embassy network in China regularly provide such assistance.
Promotional events
UKTI China frequently runs promotional events to help UK automotive companies develop their brand in China.
For example, Aston Martin recently used the Ambassador's Residence in Beijing to host a dinner for around 40 important contacts. This event brought to an end the celebration of their first 100 years of production and the start of their second century. Chinese customers appreciate Britain's heritage as well as its innovation.
In his welcoming remarks to guests Ambassador Wood said
An Aston Martin combines power and sporting ability with refinement, luxury and exceptional beauty
Aston Martin are a prime example of UK strengths in innovation, creativity and sustainability. Characteristics which in many ways sums up their status as a leading British advanced engineering and manufacturing company.
Similar events have been held for other companies such as Jaguar Land Rover.
Such companies are often invited to participate in events organised by other part of the embassy's network in China. An example of this is a recent 'Creativity is Great New Year Celebration' organised by colleagues in the Embassy's Press and Public Affairs team. This featured exhibits of cars from Rolls-Royce Motors, Jaguar Land Rover, Morgan Motors, McLaren and Aston Martin.
New show rooms and dealerships
UKTI and colleagues from the Embassy and Consulate General network are also often asked to support the opening of new show rooms for vehicle manufacturers around the country.
Ian Lockhart, Head of UKTI's Advanced Engineering and Transport in China was recently the guest of honour and participated in the opening of Morgan Motor's show room in Qingdao.
Ian stated
Although the Chinese market is increasingly sophisticated, endorsement by the British Government, as indicated by Embassy involvement is still appreciated. Invitations to the Residence are also viewed as fairly unique, select events which contacts value.
UKTI and delivery partner China Britain Business Council (CBBC) have also assisted a number of companies identify possible dealerships in China.
Import issues
UKTI and CBBC have also assisted a number of companies address issues they face in importing vehicles to China, something which can often take considerable time and effort.
However, with the projected increase in sales in this market sector, and in other areas of automotive within China, this is something that many companies continue to feel worthwhile.
Contacts
UKTI's Advanced Engineering team can provide assistance to help you develop your business in China. Contact us at commercialmail.beijing@fco.gov.uk if you need assistance.
Published 15 January 2014