World news story
UKTI South Africa promotes the UK as an investment location
UKTI is working with South African technology accelerator Sw7 to promote the UK as an investment location for South African fintech companies.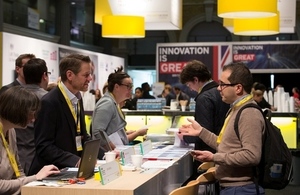 UK Trade & Investment South Africa (UKTI) kicks off an inward mission to London for some of South Africa's best fintech companies later this month.
UKTI is working with South African technology accelerator Sw7 (Start with Seven) to promote the UK as an investment location for South African companies seeking to internationalise and invest in overseas markets.
Innovate 2015
UKTI and Sw7 are helping a group of high-growth South African companies, all looking to expand their footprint to the UK, to attend Innovate 2015 in London on 9 and 10 November.
This event will bring together over 3,000 high-potential companies, international investors, government and academia. As the largest multi-sector showcase of UK innovation, it provides SMEs with exclusive opportunities to make the connections.
The mission is led by the SW7 team, who work with over 150 South African technology businesses. They also run acceleration programmes for Standard Bank and are the prime partner for Microsoft's global Bizspark Plus in Africa.
Fintech in South Africa and UK
South Africa has a diverse emerging market economy with a global leading financial services sector.
The businesses and skills that come out of this ecosystem are world-class. The participating South African companies have achieved significant traction in their respective sectors and have the background, experience and vision to create and launch global leading products.
The UK is the best fit for these companies with investment in financial technology (fintech) growing faster in the UK than anywhere else in the world.
The UK's financial services industry continues to offer a number of compelling reasons for overseas firms to invest. They include:
UK's expertise and skills base
robust legal and regulatory framework
liquid capital markets
transparency in financial reporting
geographic position and language
Mission to Innovate 2015
UKTI is pleased to provide support to this innovative group of South African companies. The mission will facilitate knowledge sharing with the UK's thriving technology industry, and to help look for opportunities for collaboration and expansion.
The mission represents a good cross-section of the fintech industry in South Africa. The services and products cover areas including:
employee loyalty programmes
adolescent tech-teaching tools
business process improvement systems
bulk messaging platforms
database management
customer feedback solutions
Participating companies at Innovate 2015
The list of participating South African companies includes:
About Sw7
Sw7 is a combination of a community, a network, a performance management process, a curriculum with content to guide businesses, and offers structured and unstructured programmes.
They run the largest technology start-up LinkedIn Group in Africa.
Contacts
Contact Duncan Hoyland to find out more.
Published 3 November 2015