World news story
UKTI launches webinar series on Australian business opportunities
Webinar series to run throughout 2013.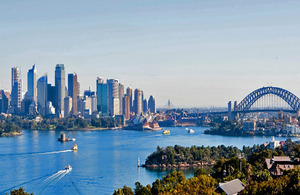 With over 20 consecutive years of growth, an exchange rate that makes British products and services very affordable and a society and culture very similar to the UK – Australia is an excellent export destination for many UK companies.
Australia is the only nation to rank in the top five of the world's most resilient economies since 2008 and its real GDP growth is expected to outperform that of every other major advanced economy up to 2017. Australia is also conveniently located next to many of Asia's highest growth economies and has a network of free trade agreements with Asian nations, as well as many native Asian language speakers resident in Australia.
UK Trade & Investment's team across Australia will be holding a series of webinars throughout the year to tell British businesses how to capitalise on the massive opportunities here.
Details on the May-July series are below, further webinars will follow throughout the year.
Opportunities for British companies in Australia's Liquid Natural Gas (LNG) industry
Wednesday 22 May, 9.30am – 10.30am (UK)
Australia is one of the few AAA economies left in the world. The LNG industry and its expansion projects are one of the keys to Australia's ongoing economic growth. Australia could become the world's largest LNG exporter by 2020.
The major projects still in the construction phase are in two separate groups, in two separate areas.
The traditional LNG is in the north-west of Western Australia and around Darwin in the Northern Territory. Unconventional CSG to LNG is on the eastern side of Australia in lower Queensland with LNG trains at Curtis Island.
Opportunities still exist for UK companies that produce high quality goods and services to gain access to the Australian LNG market. Richard Goldsmith, Head of Trade for Western Australia and UK Trade & Investment's resources lead for Australia will outline the main opportunities for British companies.
Contact Richard.Goldsmith@fco.gov.uk for more information.
Opportunities for British companies in Australia's Security Industry
Thursday 23 May, 9.30am – 10.30am (UK)
The Australian mainland has a total coastline of around 23,000 miles with more than 67 ports and Australia's overall landmass is around 30 times larger than the UK: it's a massive area to guard, patrol and monitor. The Australian security sector is huge, omnipresent in everyday life, and in a state of rapid growth.
Over recent years the threat of terrorism has had a profound impact on ASIO's (Australian Security Intelligence Organisation) work, particularly its volume, complexity and tempo. ASIO's role in border, aviation security and protection of critical infrastructure has expanded. ASIO is closely engaged with State and Territory agencies and the private sector.
PM, Julia Gillard has nominated the threat of cyber attack as one of the defining national security challenges of our age. To help tackle the threat, the Prime Minister announced the creation of the Australian Cyber Security Centre as a hub for intelligence and law enforcement experts from across government agencies.
UKTI has identified four main sectors that match Australian need to UK capability:
Border Security

Disaster Response

Terrorist/Civil Disorder Response

Cyber security
Richard Harper, UKTI Senior Trade Manager, and security sector lead, will lead a webinar to outline in more detail the opportunities for British companies in Australia.
Contact Richard.Harper@fco.gov.uk for more information.
Opportunities for British companies in Australia's Renewable Energy Industry
Thursday 30 May, 9.30 – 10am (UK)
In 2010-11, more than A$5.2 billion (£3.5 bn) was invested in renewable energy in Australia. Australia's legally binding national Renewable Energy Target is mandated to deliver 20% of the country's electricity from renewable sources by 2020, necessitating considerable growth in the industry.
A record US$243 billion was invested globally in clean energy in 2010. By 2030, it is expected that the number of new jobs created in the renewable energy industry will have grown to almost 32,000 with the largest increase being attributed to growth in the solar and wind sectors.
One of Australia's market-leading renewable energy companies, Clarke Energy, will present its view of the opportunities in Australia as well as key learnings from entering the Australian renewables market.
An expert representative from UK Trade & Investment will also be on hand to provide a market overview and answer questions on how UKTI can help.
Contact Antonia.Yendell@fco.gov.uk for more information.
Opportunities for British companies in Australia's Biotech and Pharmaceuticals Industry
Wednesday 12 June, 9.30am – 10.30am (UK)
In 2012, the Australian pharmaceutical market was valued at A$13.84 billion (£9billion) and forecasted to reach A$16.1 billion (£11 bn) by 2016. It is ranked among the top 15 pharmaceutical markets in the world.
The Australian biotechnology industry is the 6th largest in the world including around 450 core biotech companies amongst an industry total of 1200 enterprises and a world class scientific, medical and agricultural research base.
Joe Dodd, UK Trade & Investment lead for the biotech and pharma sectors in Australia will update British companies on the latest opportunities available.
Contact Joe.Dodd@fco.gov.uk for more information.
Business Opportunities in the Australian Food & Drink sector
Wednesday 19 June, 9.30am – 10.30am (UK)
Australia has one of the most concentrated grocery markets in the world. Woolworths and Wesfarmers (owner of Coles) account for almost 80% of supermarket sales, 60% of alcohol retail, 50% of petrol retail and 40% of all retail in Australia.
Although Coles and Woolworths are engaged in a toe to toe battle for market share, both these goliaths have a thriving 'international' section. Their offer of iconic and exotic imported grocery and confectionary (including a substantial UK offering) continues to grow. Also, Australia's wealth and increasing desire for luxury, exotic and gourmet goods is causing an increase in specialty and boutique food and drinks stores.
Opportunities exist in a variety of sectors ranging from traditional bakery through to ethnic foods, confectionery and foodservice.
Richard Harper, Senior Trade Manager for UK Trade & Investment and lead for the food and drink sector will lead a webinar discussing opportunities for British companies as well as routes to market.
Contact Richard.Harper@fco.gov.uk for more information.
Opportunities for British companies in Australia's Rail Sector
Monday 24 June, 9.30am – 10.30am (UK)
Australia is a vast country where rail plays a growing role transporting passengers and goods. From (2000-2009), over 30 major transport infrastructure projects were completed in Australia, these projects covered an array of heavy rail, urban rail and light rail/tram, with a total cost of approximately £7 billion.
In spite of a significant increase in infrastructure spending since then, Australia is failing to keep pace with demand and the country is entering one of the most important periods in history for infrastructure development and reform.
Leah Gartner, Senior Trade Manager for UK Trade & Investment and lead on the rail sector in Australia will present opportunities for British companies Australia's rail industry.
Peter Koning (Technical Director, AECOM), Steve Tonks (Procurement Director, UGL/Unipart Rail Logistics) and Steve Scriven (Sales Director, Unipart Rail Australia) will also present their expert knowledge in the industry, and their experiences over the past five years.
The webinar will highlight growth opportunities in Australia for UK rail suppliers
Contact Leah.Gartner@fco.gov.uk for more information.
Opportunities for British Companies in Australia's booming mining industry
Wednesday 3 July, 9.30am – 10.30am
Australia is one of the world's largest mining resource producers, a key market for opportunities for UK mining and mining-related businesses. The Australian resources industry is in the midst of great expansion, a large and diversified industry approaching £100bn in size across energy, base metals, precious metals and their ores. A boom decade has brought much competition and winning business is a tough game.
However, in a rapidly capital-intensifying industry, the UK's strengths in high-technology goods, in professional and other services, its strong cultural, institutional and existing business ties, and the competitive exchange rate for the British pound, bring real opportunities for British businesses.
Linda Miles, UKTI Australia's Mining Lead and Ian Hamilton, the British High Commission's Senior Economist in Australia will look at the broad economic backdrop, the current status of the mining boom and specific areas of UK opportunity.
Contact Linda.Miles@fco.gov.uk for more information.
Published 10 May 2013