World news story
UKTI Greece supports UK energy companies
Ed Davey attended the signing of new agreements for hydrocarbon exploration, surveying and production in Greece.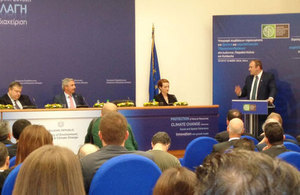 The signing of the agreements was the culmination of long term support provided by UK Trade & Investment (UKTI) Greece to UK companies interested in Greek hydrocarbon exploration opportunities. The selected companies include a consortium between:
UK company Trajan Oil & Gas
Greece's Energean Oil
The consortium is the concessionaire for the offshore plot at Katakolo in the north western Peloponnese. Greece is well placed to be energy hub for the region. The energy sector is set to become the driving force behind the recovery of the Greek economy and is expected to provide more opportunities for UK companies.
Trans Adriatic Pipeline
The team is also already providing assistance to UK companies involved in the Trans Adriatic Pipeline (TAP) project. This has been selected to transport Azeri gas into Europe. TAP recently announced the launch of the pre-qualification process for onshore pipeline construction. This involves the engineering, procurement and construction in Greece and Albania of:
about 760 kilometres of 48 inch (1.2 metres) diameter, cross country onshore pipeline
32 block valve stations
Renewable Energy
In terms of capacity for new solar power installations Greece ranks:
fourth in Europe
seventh internationally
With more than 250 days of sunlight, developments are expected in this sector. New wind power projects are also expected to provide scope for UK company involvement. Greece has a target capacity of 7,500 Megawatt (MW) to be installed by 2020.
Signing ceremony
Secretary of State for Energy & Climate Change, Ed Davey attended the signing of 3 new agreements for hydrocarbon exploration, surveying and production on Wednesday 14 May 2014. It took place at the Hellenic Ministry of Environment, Energy and Climate Change. Also present were:
Deputy Prime Minister and Foreign Minister, Evangelos Venizelos
Minister for Environment, Energy & Climate Change, Ioannis Maniatis
representatives of partnering companies
Contacts
Contact UKTI Greece if you are a UK company wishing to • do business in Greece, • expand into south eastern Europe, • become involved in supply chains for major energy projects in the region.
Department for International Trade Greece
British Embassy
Ploutarchou 1
106 75
Greece
Published 20 May 2014