World news story
UKTI-FCO GREAT Highlights and forward look Iraq
Highlights of UKTI in Iraq activities and events in November and October which showed the huge influence of UKTI work in Iraq.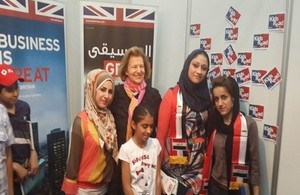 IRAQ: GREAT Events 23 September – 25 October 2013 - H2
Trade Delegation around Erbil International Trade Fair, Erbil, 23-26 September - H3
UKTI Erbil, in partnership with The UK's Middle East Association (MEA), and the Kurdistan Regional Government (KRG), led a multi-sector trade delegation of some 35 companies to Iraqi Kurdistan 22—27 September to coincide with the ninth Erbil International Trade Fair, Iraq's largest general trade exhibition. Mission participants also exhibited at the Fair's GREAT UK Pavilion, met government ministers, senior business leaders, and the local Chambers of Commerce. A Business is GREAT reception was hosted by visiting Trade Envoy Lord Marland who gave a well received speech on the strength of Kurdish/British commercial relations. Lord Marland also proudly opened the new Erbil Visa Application Centre which will make it easier for Kurdish business visitors to come to the UK.
Education is GREAT at the Baghdad Higher Education Fair, Baghdad 28 September - H3
The Embassy, British Council, the British Universities Iraq Consortium (BUIC) and nine UK Universities participated in the Baghdad Higher Education Fair. The Ambassador gave congratulatory remarks at an opening ceremony led by Prime Minister Nouri Al Maliki which was attended by ministers, educators, and university representatives. The two-day education fair drew over 3,000 participants, largely prospective students. Next year we aim to double participation from UK Universities, maintain the UK's reputation as a partner of choice in the field of higher education and increase the number of Iraqi students going to study in the UK.
Business is GREAT at Baghdad International Trade Fair, Baghdad, 10-20 October - H3
The Embassy had a booth at the 40th Baghdad International Trade Fair, opened by Prime Minister Nouri Al Maliki. We showcased the services of the Embassy and products and services from leading UK companies in the sectors of education, construction, power and water.
IRAQ: GREAT Forward Look November 2013 - H2
UKTI / Iraq Britain Business Council Second SME Conference on Opportunities in Iraq, London, 5 November - H3
UKTI Inward Investment Mission from Kurdistan Regional Government, London, 6-7 November - H4
The aims of this mission are: to promote UK as a business and investment destination for large KRG companies, to encourage UK companies to embrace the opportunities on offer in the Kurdish region of Iraq, and the potential to gain market entry into the huge Iraqi marketplace in the south; promote UK expertise in the fields of project finance and investment and to send a strong signal to the KRG to show that the UK companies are ready to embrace the market.
UKTI/ Iraq Britain Business Council Baghdad and Erbil Mission, Baghdad, 17-22 November - H3
A large delegation of British companies in the fields of education, healthcare, infrastructure and water will visit Baghdad and Erbil to meet their Iraqi counterparts and participate in an investment conference, run by the Iraqi National Investment Commission. Second Ministerial trade Council, London, 25 November
Senior Iraqi and British Ministers and officials and business decision makers will meet to discuss maximising trade relations between the two countries.
Published 29 October 2013