World news story
UKTI Dublin promotes growth through export
UK Trade & Investment brings together 50 UK companies to discuss the benefits of exporting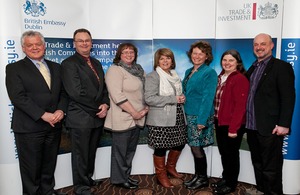 UK Trade & Investement (UKTI) have organised a visit to Dublin for over 50 UK companies to discuss approaches to business exports. The visit was part of an initiative by UKTI to stimulate economic growth by introducing more companies to exporting. Ireland was one of nine markets companies could visit and attracted over double the number of delegates than the next biggest market in the programme, Germany.
The two-day visit, organised by UKTI Ireland and UKTI North West, gave new and inexperienced exporters the opportunity to benefit from a programme of seminars, networking and training events, including a welcome from Dominick Chilcott British Ambassador to Ireland who also chaired on of the sessions.
Over 13 presentations were given from key stakeholders and partners of UKTI Ireland which included two UKTI North West case studies who came over especially for this event which included networking events, breakout sessions, store visits and presentations - all aimed at introducing novice and non-exporters to the principles of international trade.
Topics included: business opportunities in Ireland, banking, professional and legal service, logistics, marketing, payments, business culture and support services, payment and more. See below for a list of presentations which are available upon request from Vicki Caplin
Benefits of Exporting - Mike Eccleshall, Deputy Director, UKTI North West
Business Culture in Ireland - Neil O'Brien, O'Brien Consulting
UKTI Dublin Introduction & Services - Simon McKeever, Director, UKTI Ireland
Business Opportunities in Ireland - Sean Brodie, Partner, PwC Ireland
Banking, Payment & Currency - John McGrane, Head of Product and Service Sales, Ulster Bank
Freight, Distribution & Logistics - Aidan McCollum, Sales Director, TNT Express Ireland
Key Business Resources (top tips) - Aidan Scollard, Partner, RSM Farrell Grant Sparks
International Marketing Strategy - Lauren Fisher, Co-Founder, Simply Zesty
Professional Legal Services in Ireland - Liam Brazil, Partner, Mason Hayes & Curran
Case Study - Antonio Parente, European Business Development Manager, ACDC LED Ltd
Case Study - Mark Robinson, Director, HiDef Aerial Surveying Ltd
Maximising Chambers & Networks - Michael Keaveney, Director GB, British Irish Chamber of Commerce
Expanding your Geographical Reach through ecommerce - Polly Delany, Business Development, Realex Payments
Enterprise Europe Network - Link to Overseas Connections
For more information contact Vicki Caplin by email, or phone her on +353 1 205 3757.
Published 19 March 2013