World news story
UKTI Dublin connects with Irish companies at CorkMEET forum
"CorkMEET" is an annual International Business Networking event which brings together companies from Ireland and beyond.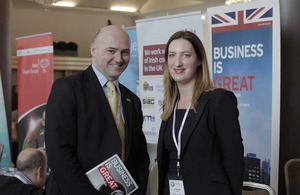 10-12 April 2013
The 3-day business event consisted of a Conference day, 2 days of 'one-to-one' company meetings and a networking dinner. The event was organised by the Europe Enterprise Network, Cork City & County Councils and Cork Chamber of Commerce.
UKTI Dublin had a stand to provide help and advice to Irish companies with an interest in setting up in the UK and were involved in the pre-arranged company meetings.
UKTI Bristol also attended the event, bringing a delegation of 6 UK companies to meet Irish companies based in Cork to explore potential business and partnering opportunities.
Up to 400 companies attended this CorkMEET event with many companies representing the Cork business community together with businesses from across Ireland.
Up to 50 companies from Northern Ireland also took part in the 3-day forum, led by InterTrade Ireland.
Speaking about the event, a spokesperson from the CorkMEET 2013 Project Management Team, said:
We were delighted to have delegates made up of representatives of a number of businesses from the UK, with companies from London and Bristol participating.
The decision to partner with InterTradeIreland, the only organisation which has been given responsibility by both Governments to boost North/South economic co-operation to the mutual benefit of Northern Ireland and Ireland, offered companies on both sides of the border, a unique opportunity to source new networks and partnerships during the 3 days of the event.
The CorkMeet event was held at the Rochestown Park Hotel, Cork.
For further details about Irish companies interested in setting up in the UK, please contact Paul Caplis, Head of Investment at UKTI, Dublin
Published 22 April 2013