News story
UKTI DSO announces its 2015-2016 events programme
UK Trade and Investment Defence and Security Organisation (UKTI DSO) is pleased to announce its exhibitions programme for 2015-2016.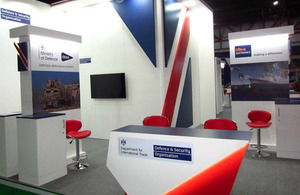 The programme is made up of 24 international and 4 UK exhibitions. For the first time it includes two cyber security specific exhibitions, reflecting the growing importance of the sector.
Simon Everest, Director Business Strategy and Senior Security Adviser, UKTI DSO, commented that:
I am delighted to be able to confirm UKTI DSO's exhibition programme for the coming year. Exhibitions provide an excellent opportunity to meet new contacts or to further develop existing relationships, and in fostering these relationships, UKTI DSO prides itself on its delivery of unique services to the UK Defence and Security Industries.

My events team will be pleased to discuss this in detail with you, and we look forward to continuing and improving our work together.
For further information, please contact: UKTI DSO events team uktidso.events@ukti.gsi.gov.uk.
Published 2 February 2015