World news story
Rivals on the pitch, partners in business
Currently, 34 British companies are engaged in infrastructure, design, construction, equipment and security projects in Brazil.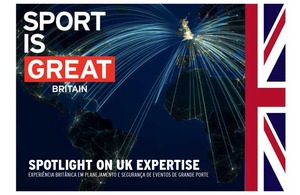 Twenty-nine years after the last game between Brazil and England at the Maracanã, the England team are preparing themselves to face the Brazilian team in the re-inauguration of one of the most iconic football stadiums in the World, at 16h on Sunday, 2nd June.
This will be the 25th game played between the two sides since 1956. The affinity between the two countries, however, dates much further back – all the way to 1894.
Roy Hodgson, England Manager commented:
The football partnership between England and Brazil goes back to the very beginning, when Englishman Charles Miller brought two footballs and a rule book over from Southampton, thus introducing the beautiful game to Brazil. It is with great pleasure that we are back in Brazil for another chapter in this shared football history.
Away from the football pitch, the two countries have been increasing their business partnerships, especially related to the key sports events that Brazil is hosting in the next few years – 34 British companies are currently engaged in infrastructure, design, construction, equipment and security projects, amongst others. 60 contracts have so far been agreed between UK companies and Brazil to support preparation for the 2014 World Cup in and the 2016 Olympic and Paralympic Games in Rio de Janeiro.
To assist the successful development of further partnerships between the UK and Brazil, more information is available on a website called Springboard to Success. The site showcases, by theme, the international experience of more than 800 British companies in planning and delivering major sporting events. Many of those listed were involved in London 2012.
To compliment one specific strand of the work between the two countries, the UK has published information in Portuguese, on 26 British companies with expertise and know-how in the area of safety and security for sporting events. The catalogue has been produced to coincide with the Brazil versus England friendly, ahead of Brazil's hosting of the 2013 Confederations Cup in six of the 12 World Cup host cities. You can view and download the catalogue here.
Published 23 May 2013
Last updated 27 May 2013
+ show all updates
Added translation
Added translation