World news story
UKTI assigns special award at the 70th Venice Film Festival
"Il terzo tempo" by Enrico Maria Artale, "Medeas" by Andrea Pallaoro and "Kush" by Shubhashish Bhutiani are the winners of UKTI "Best Innovative Budget" Award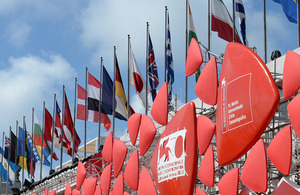 UK Trade & Investment (UKTI) and Borsa Italiana are pleased to announce the winners of the "Best Innovative Budget" Award that will be assigned to two films this year – an Italian and an Indian film – chosen within the Orizzonti category of the 70th Venice International Film Festival.
The selected films are "Il terzo tempo" directed by Enrico Maria Artale, Medeas by Andrea Pallaoro and "Kush" by Shubhashish Bhutiani.
With the "Best Innovative Budget Award", which has reached its fourth edition, UKTI recognises the importance of a creative and innovative approach to producing and financing quality cinema.
"Il terzo tempo" is the first film directed by Enrico Maria Artale, an emerging talent who has already received numerous recognitions for his previous short films. He studied at the Centro Sperimentale di Cinematografia di Roma (CSC), the main Italian cinema school. The film was produced by Filmauro and CSC Production Centre in association with Digipix and F.lli Cartocci. The film tells the story of Samuel (Lorenzo Richelmy), a young troubled man with a violent family background who finds in rugby the opportunity for a new start.
"Medeas" is a feature film by Andrea Pallaoro an award-winning and theatre director whose previous film, Wunderkammer won several recognitions. The Film was produced by For There We Were Production, Los Angeles. Medeas is an intimate portrait of a rural family's inner lives, of their tensions and anxieties culminating in a dangerous conflict between control and freedom, intimacy and alienation, a journey into the unpredictable boundaries of human behaviour.
"Kush" is a short film by Shubhashish Bhutiani, an emerging director who recently graduated at the School of Visual Arts (SVA) in New York. The producer is Red Carpet Moving Pictures. Kush is inspired by the true story of an Indian Sikh student at the time of anti-Sikh riots following Indian PM Indira Gandhi's assassination in 1984.
There are several reasons these films won the award. Il "terzo tempo" managed to source funds from an array of diverse investors, public and private such as the Presidenza del Consiglio dei Ministri – Dipartimento della Gioventù, Ministero dei Beni Culturali, CSC Production, Filmauro, Warner Chappell, Frascati Rugby Team and numerous sponsors (product placement). The most innovative aspect is the partnership between CSC Production Company and Filmauro and the ability to secure private funding and technical sponsors. However, the judges were also impressed with the promotional approach using the Italian Rugby Federation and the Italian Rugby Team.
"Medeas" was primarily financed through private equity investors and by sourcing smaller "crowd investors" within 3 Continents. The investors believed in the project for it's artistic integrity and the strength of the team to be able to obtain a return on their investment. The film also obtained the "Panavision first time filmaker grant".
"Kush" was made on a shoestring budget thanks to private contributions including by the Film Director and other individuals who sacrificed their fees and charges to make the film possible. The Director, a student of the School of Visual Arts in New York was also able to secure three grants from the school, quite a feat for a student. Creativity, personal initiative and help from individuals allowed to keep costs down using real locations, with support from the local community, adding to the authenticity of the film.
The award ceremony will take place on 4th September 14.30 at Hotel Excelsior – Sala Torcello, Venice Lido.
It will be jointly hosted by Vic Annells, HM Consul General and Director General for Trade & Investment and Luca Peyrano, Head of Continental Europe, Primary Markets at Borsa Italiana/London Stock Exchange Group.
The ceremony will be followed by a roundtable discussion on strengths, challenges and financing opportunities for the film industry chaired by actress Maria Grazia Cucinotta, President of the Award Commission and attended by Aurelio De Laurentiis, President of Filmauro, Samantha Perahia, British Film Commission, Shlomo Blanga (Eagle Pictures) and major Italian and international film industry players.
Creative industries represent one of the key priority sectors for the British government and therefore the discussion will also raise awareness on the opportunities that the UK can offer. The UK has one of the largest and most diverse creative industry sectors in the world accounting for 6% of GDP and employing 2.3m people.
With over 100 studios the UK is an international hub for film in the digital age, working in partnership and collaboration with counterparts around the globe. Its excellence in technical innovation and the depth and expertise of its skills and services make Britain a world-class production partner at home or abroad.
To obtain accreditation, please contact the British Consulate-General Press Office at the following contacts.
Milan, 29 August 2013
CONTACTS:
UK Trade & Investment
British Consulate-General Via San Paolo, 7 – 20121 Milan, Italy
Twitter:@UKTIITALIA & @UKTIITALY
LinkedIn: UKTI-Italy
PRESS OFFICE
Raffaella Previtera
Head of Communications Team
Tel. +39 02 72300 253/251/249
CommunicationsMilan@fco.gov.uk
INVESTMENT OFFICE
Tiziana Marcuccio
Head of Investment Group
Tel. +39 02 72300 247/008
Inwardinvestment.Milan@fco.gov.uk
Notes to Editors
UK Trade & Investment (UKTI) is the Government Department that helps UK-based companies succeed in the global economy. We also help overseas companies bring their high-quality investment to the UK's dynamic economy acknowledged as Europe's best place from which to succeed in global business.
UK Trade & Investment offers expertise and contacts through its extensive network of specialists in the UK, and in British embassies and other diplomatic offices around the world. We provide companies with the tools they require to be competitive on the world stage.
For further information please visit www.ukti.gov.uk.
Published 29 August 2013