World news story
UK's Sustainable City Mission to support Hunan's Two Oriented Society initiative
UK Trade & Investment (UKTI) Guangzhou team organised the 5th Sustainable City Mission to Changsha from 20 to 22 March.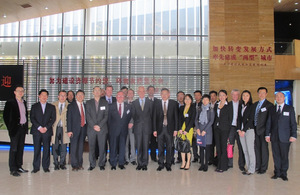 The high profile delegation will be led by Consul-General, Alastair Morgan. There are 9 companies from a wide range of sustainable sectors, such as sustainable architecture design and engineering, environmental solution, low carbon testing & certification, and education.
A series of sector focus events with senior local engagement were arranged in order to match the business objectives of these companies with the Two Oriented Society (environment-friendly and resources saving) development initiative of Changsha; namely the roundtable meeting with Hunan Airport Group on the upcoming 5 to 10 years regional airport development plan; the site visit to the Dahexi Pioneer Zone followed by the roundtable meeting with the top state owned enterprise Changsha Pilot Investment Holdings Co. Ltd.; the meeting with the vice-mayor of Changsha; sustainable urban & environment seminars and roundtable meeting with Yunlong Demonstration Zone - another promising development zone in the Changsha-Zhuzhou-Xiangtan Cities Cluster that aims to develop to demonstrate the Two Oriented Society.
Local audiences from government, project owners, and academic institutes expressed great interest in UK's leading technology & expertise portfolio in sustainability. UKTI Guangzhou team also received positive feedback from delegates that they will follow-up closely in this region in pursuit of the business opportunities under the agenda of sustainable development.
Further information
UKTI Guangzhou generated £6,825 Overseas Market Introduction Services (OMIS) revenue from this mission. In the past 4 years, UK companies won business in a number of high profile projects in Hunan, such as the master plan of Meixi Lake – Atkins, Aedas, tourism master plan consultancy of Dawang Mountain – Hyder Consulting, T2 of Huanghua Airport – Atkins, Changsha International Cultural & Arts Centre – Zaha Hadid, and the tallest landmark in downtown Changsha - Arup. Furthermore, the first BREEAM Excellent project will be landed in a prime location in Changsha this year. Details of the project remain confidential for now until the official announcement by the project owner.
Published 3 April 2013