World news story
UK's Special Envoy for Gender Equality Visits Cairo
UK's Special Envoy for Gender Equality Visits Cairo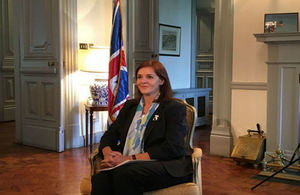 On Saturday 23 September, Joanna Roper, the UK's Special Envoy for Gender Equality, arrived in Cairo for a two day visit. During her visit, she will meet with the President of the National Council for Women in Egypt, Dr Maya Morsy, female Members of Parliament, and leaders working on women's social and economic empowerment.
Joanna Roper was appointed as the UK's first ever Special Envoy for Gender Equality in February this year, in recognition of the UK's intention to integrate gender equality into foreign policy at all levels. Her role is to build international support for gender equality priorities, working with international partners to promote women's equality.
Her visit to Egypt will focus on women's economic empowerment, and she will meet with officials and business leaders to discuss the importance of women fully participating in the economy based on the belief that building an inclusive economy benefits not only women, but the economy as a whole. Her visit coincides with the visit of Sir Jeffrey Donaldson, the UK's Trade Envoy to Egypt, and an accompanying trade delegation looking for opportunities to invest in Egypt.
The UK's support for the economic empowerment of women has included support for the Government of Egypt's Takaful and Karama programs, to enable the government to better target subsidies to the poorest. 92% of the 8 million Egyptians benefiting from the programs are women. The UK also recently announced a EGP25m social enterprise fund which will support businesses including promoting the participation of women.
The Special Envoy for Gender Equality will also meet with education specialists to discuss the importance of girls' education, as a key factor in women's economic empowerment.
Her visit comes during the final week of 'Gender September', a month of events at the British Embassy in Cairo designed to shine a spotlight on women in leadership and encourage men and women to work in partnership to support women's political and economic inclusion.
Joanna Roper, the UK's Gender Envoy, said:
I am delighted that my first official visit to Egypt coincides with the Year of Woman. There are plenty of opportunities for Egypt and the UK to work together on women's empowerment. I look forward to expanding the partnership between Egypt and the UK to include gender equality alongside and as part of our already strong partnerships on the economy and education.
Published 25 September 2017