World news story
UK's Secretary of State for Defence visits Pakistan
''UK stands shoulder-to-shoulder with Pakistan'', says the UK's Secretary of State for Defence during his visit to Pakistan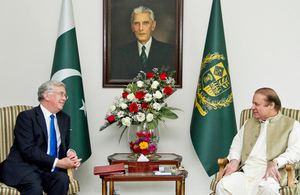 The Rt Hon Michael Fallon MP, the Secretary of State for Defence of the United Kingdom arrived in Pakistan on 5th Aug 2015, on a day long visit. The visit of Rt. Hon. Micheal Fallon is part of the United Kingdom's commitment to deepen the strategic partnership with Pakistan across many important areas including bilateral Defence ties.
During his visit, the UK Secretary of State for Defence had high level meetings with Prime Minister Mian Nawaz Sharif, Chief of the Army Staff General Raheel Sharif, Minister for Defence and Water & Power Khawaja Muhammad Asif, Minister for Interior Chaudhry Nisar Ali Khan and Special Assistant to the Prime Minister on Foreign Affairs Syed Tariq Fatemi.
Rt. Hon. Michael Fallon MP said:
The United Kingdom and Pakistan have a strong bond of friendship and the breadth and depth of the strategic partnership has only grown deeper over the period of time.
I had range of important meetings in Islamabad today with leaders and officials to discuss regional security issues and steps to deepen the Defence relationship between the United Kingdom and Pakistan.
The UK recognises the huge sacrifices being made by the people and security personnel of Pakistan. Our two countries have an unwavering commitment to work together to combat the menace of terrorism and extremism which threatens the people of both countries. The United Kingdom will continue to stand shoulder-to-shoulder with Pakistan in the fight against terrorism and extremism.
ENDS
Contact: Press Attaché, British High Commission, Islamabad; tel. 92 51 2012000
Notes to editors:
Find latest photographs from the visit our flickr gallery