UK's Minister for Europe discusses Europe in 2012 in Madrid
Minister for Europe David Lidington has delivered a speech on Europe's place in the world in 2012 during a visit to Madrid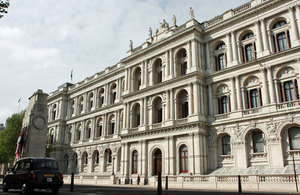 The UK's Minister for Europe David Lidington today spoke at the Ritz Hotel in Madrid about Europe's position in the world in 2012.
The Minister discussed a range of issues facing Europe, including the promotion of jobs and growth, the future of the eurozone, the Single Market, and climate change and energy security.
Hosted by think-tank Nueva Economia Forum, the event was also attended by Iñigo Mendez de Vigo, the Spanish Minister for European Affairs.
Antonio San Jose, the well-known broadcast journalist, moderated a Q&A session which allowed attendees to question the Minister on the themes raised in his speech.
Speaking ahead of the event, David Lidington said: "I am delighted to be visiting Madrid, and to have the opportunity to discuss some of the key issues facing Europe with my Spanish colleagues. I look forward to discussing ways in which we can work together to promote growth, boost jobs, and create economic stability. Unlocking growth in the EU is the key challenge for its Member States, and one which we must, together, strive to achieve."
Read the Minister's speech in full
Photos from the Minister's speech
Published 1 February 2012