World news story
UK's messages of condolence to the people of Peshawar
British Prime Minister leads UK's messages of condolence to Pakistan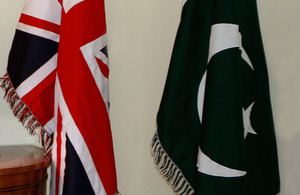 Responding to the shocking attacks at the Army Public School in Peshawar, British Prime Minister, David Cameron, tweeted:
The news from Pakistan is deeply shocking. It's horrifying that children are being killed simply for going to school.
The British Foreign Secretary, Philip Hammond, also issued a statement.
I am appalled by news of a terrorist attack on a school in Peshawar today and by the tragic loss of life. I send my deepest sympathy to the victims and their families. "Nothing can justify such an horrific attack on children going to school. The UK continues to stand shoulder to shoulder with the government and people of Pakistan in the fight against terrorism and extremism.
The United Kingdom's International Development Secretary, Justine Greening, also tweeted:
Horrific innocent schoolchildren in #Pakistan have been killed. My thoughts with victims & families. #PeshawarAttack is action of cowards.
Philip Barton, the British High Commissioner to Pakistan, tweeted:
Deeply saddened by the appalling #PeshawarAttack. My heartfelt thoughts are with the victims and their families.
Further Information
Contact: Press Attaché, British High Commission, Islamabad; tel. 051-201-2000
Published 17 December 2014