World news story
UK's annual temporary visa service in the Maldives will operate on 26 August 2015
The UK's annual temporary visa service in the Maldives will operate on 26 August 2015 from 9.00 to 17.15.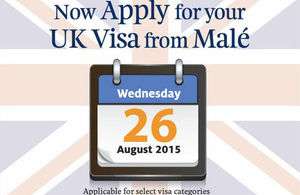 Customers will be able to apply for their UK visas at the Ministry of Foreign Affairs, Male. Applicants using the temporary Visa Application Centre (VAC) will need to pay a fee of £170 on top of the cost of the visa. The fee must be paid in advance via the VFS Global shopping cart.
The Temporary VAC address is
Ministry of Foreign Affairs,
1st Floor Bodu Thakurufaanu Magu,
Male', 20077 Maldives

Customers will be able to apply for visas on all routes and UKVI will continue to work to our 15 working day customer service standard for non-settlement cases.
Applicants using the temporary VAC will follow the normal application process by submitting their forms, paying for their visas and booking their appointments online via the visa4uk website.
Their documents will then be returned to them via courier post.
Customers are to note that this is an optional service and customers in Maldives are free to travel to the nearest free to use visa application centre.
Customers requiring advice on their application should contact the International Enquiry Service.
Further information on where to find the VAC and frequently asked questions on the application process can also be found on the VFS Global website.
Published 7 August 2015