World news story
UK's Advanced Command & Staff Course (ACSC) in Poland
On 13-17 January 2014, a group of ACSC staff and students visited Poland to learn about its defence and security priorities.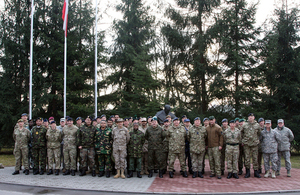 Over the period of 13-17 January 2014, 48 staff and students from the UK's Advanced Command & Staff Course (ACSC) visited Poland, where they were hosted by the Defence Attaché, Group Captain David Houghton. As well as UK students, the ACSC visitors included officers from; Australia, Bangladesh, Brazil, Canada, India, Japan, Lebanon, Nigeria, Pakistan, Saudi Arabia, Spain, Uganda and the USA.
The aim of the ACSC visit (which formed part of the students' Regional Security Exercise 1 element of the year-long ACSC course), was to provide the students with an in-depth appreciation and understanding of the factors which shape Poland's defence and security priorities. During their time in Poland, the group visited key Polish military bases, including; 23rd Tactical Air Base, 1st Armoured Brigade, Special Forces Command and 6th Airmobile Brigade. They also received briefings from key Polish Ministry staffs, including personnel from the Ministry of Foreign Affairs; National Security Agency and Border Guards Agency, and visited key historic sites including the Warsaw Rising Museum and Auschwitz-Birkenau.
Published 18 January 2014