World news story
UK/Oman explore potential partnerships on the Oman Railway Project.
UK Rail Delegation meets SME's and Local Businessmen with eyes on the Fast Track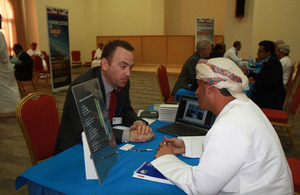 More than 12 British Companies from the UK Railway Industry Association met with SME's and Local Businessmen at Oman Chamber of Commerce & Industry yesterday to explore opportunities for potential partnerships working on the Oman Railway Project. Supported by UK Trade & Investment, the delegation were in Muscat to learn more about the Oman Railway Project and how best to work with SME's and local companies to help with the recently announced fast tracking of its building, beginning construction in 2014.
The UK Rail companies involved range from technology providers, construction companies, consultants and specialist service providers working in infrastructure, stations, rail systems and rolling stock. They are well placed to share skills and knowledge, drawing on many years of experience in developing sustainable integrated railway infrastructure and operations and are keen to work with partners in the Sultanate to fulfil the vision of Oman becoming the centre of excellence for Rail in the region.
During their visit the delegation visited the Ministry for Transport and Communications and hosted a networking reception at the British Embassy.
Local press coverage: Oman Observer Muscat Daily
Published 10 November 2013