Press release
UKHO appoints architects to design its new office building
The UK Hydrographic Office (UKHO) moved a step closer to its new office building today with the award of two contracts.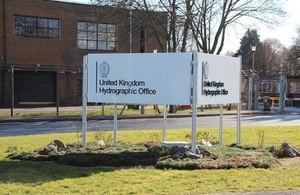 A Design Services contract has been awarded to architects AHR. The design practice has significant experience of similar projects in particular a new headquarters for Bath and North East Somerset Council. This project has won a number of awards including 'The best of the best award' 2015 from the British Council for Offices.
An associated Cost Consultancy and Contract Administrator appointment has been awarded to MACE Group. Their experience includes Somerset County Cricket Club's new Somerset Pavilion, and the new headquarters for Devon and Cornwall Police in Exeter. It is currently working closely with Taunton Deane Borough Council on a number of live projects.
UKHO's new environmentally friendly office will replace its existing inefficient and expensive to maintain buildings in Taunton. As well as bringing financial benefits, the new build will provide an up-to-date technology infrastructure and working conditions to enable the organisation to sustain a long-term future. Costs associated with the new office will be met by the UKHO from business receipts as a self-funding agency.
Chief Executive John Humphrey said: Having secured approval for our new accommodation the award of the first contracts is an important milestone in the design and build of our future accommodation. I am looking forward to seeing our requirements brought to life to create a very tangible vision for UKHO's future.
Karle Burford, Director of AHR commented: AHR is delighted to be working with the UKHO at such an important time in its evolution. We look forward to designing a modern, collaborative working environment that truly reflects and supports its work in the digital age.
Stuart Wilkinson, Associate Director of MACE added: We are looking forward to partnering UKHO, applying our breadth and depth of expertise to help achieve best possible value from construction costs throughout the lifecycle of the project.
The UKHO will continue to operate from its current buildings until moving into the new office which is planned for 2019. Existing buildings will then be demolished and the land at the front of the site sold for redevelopment.
Published 8 March 2016