World news story
UK/Angola co-operation in the Civil Aviation Sector
Letters of Procedures have been exchanged between the UK and Angolan Governments on civil aviation providing Search and Rescue support in the Atlantic for the UK Overseas Territory of St.Helena.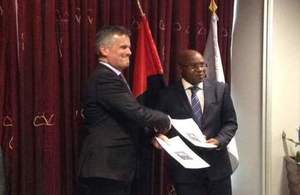 On the 26th of January 2016, the Chief of the Board of Directors of ENANA (Empresa Nacional de Exploração de Aeroportos e Navegação Aérea) signed a Letter of Procedure that allows the United Kingdom to establish a Search and Rescue Sub-Centre on the UK Overseas Territory of St Helena in support of the Island's new airport.
The signature ceremony was attended by HE UK Ambassador, John Dennis and the Deputy General Director of INAVIC - the Angolan Civil Aviation Authority and witnessed by ENANA board members. Mr Dennis said:-
"With the opening of the new airport on St.Helena, aircraft flying to and from the island would be entering Angolan airspace and search and rescue authority. This agreement represents a major step forward in the collaboration between our two countries in the civil aviation sector and paves the way for the enhancement of a Search and Rescue facilities in the mid-Atlantic".
Published 8 February 2016