UKaid for Palestinian people
International Development Minister Alan Duncan today announced additional support for the delivery of essential services to the Palestinian people and the recovery of the private sector in Gaza.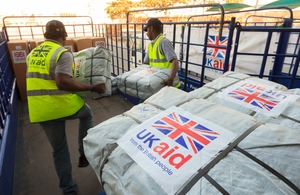 The new UKaid from the Department for International Development will:
Help pay for Palestinian Authority service delivery, demonstrating the UK's commitment to Palestinian state-building (£13 million). This funding will, for example, help pay for 5,400 children to go to primary school and over 1,000 children to secondary school.
Support the United Nations Relief and Works Agency to deliver essential services (£8 million). For example, this will help pay for comprehensive maternal health care to 48,000 women and health services to over 43,000 children.
Support the dormant and damaged private sector in Gaza to recover (£2 million). This will help 300 existing businesses and 4 start-ups to grow sales by $5 million, and employ 2,200 people.
Fund United Nations and Palestinian Authority teams working to facilitate access for Gaza imports (£310,000).
The announcement was made while Minister Duncan was visiting the Palestinian territories and Israel.
Published 27 October 2010