News story
UKAEA wins two development awards
UKAEA recognised for its Apprentice scheme and professional development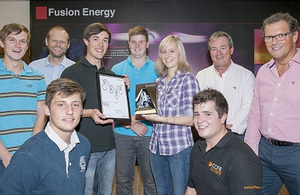 This month UKAEA has won two different awards for development of our staff. The first is the BAE Systems Large Employer of the Year in the Thames Valley final of the National Apprenticeship Awards 2014. The awards celebrate the achievements of the country's most outstanding apprentices and apprenticeship employers.
Stephen Hall, Culham Apprenticeship Training Manager, said:
The award is great recognition for our apprenticeship training. Our scheme is relatively small but we have plans to expand it in the next few years. We also want to link up with other local employers to improve the skills of more young people in the area. Our success is shown by a 100% retention rate so far, and trainees who perform at a high level on completing their apprenticeship – and by the energy and vibrancy the apprentices bring to the organisation.
The second is the winner of the Institute of Physics' 2014 Best Practice in Professional Development Award. The award recognises our formal career path for physicists, professional development of staff and the work we do to promote the value of physics in society.
Dr Andrew Kirk, Senior physicist, said:
Much of the reason for the award is our recent introduction of a professional development plan specifically designed for our physicists. As part of this we're seeing more and more of our researchers attain Chartered Physicist status. We also have a very successful mentoring programme, which has 170 members, providing staff with an experienced professional who advises and guides them in their career planning. We're delighted to get this recognition from the IOP.
Published 22 September 2014